BONNET Timothée
Recommendations:
0
Review:
1
Review: 1
25 Aug 2022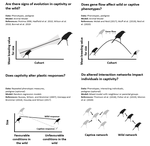 Improving species conservation plans under IUCN's One Plan Approach using quantitative genetic methods
Quantitative genetics for a more qualitative conservation
Recommended by Peter Galbusera based on reviews by

Timothée Bonnet

and 1 anonymous reviewer
Genetic (bio)diversity is one of three recognised levels of biodiversity, besides species and ecosystem diversity. Its importance for species survival and adaptation is increasingly highlighted and its monitoring recommended (e.g. O'Brien et al 2022). Especially the management of ex-situ populations has a long history of taking into account genetic aspects (through pedigree analysis but increasingly also by applying molecular tools). As in-situ and ex-situ efforts are nowadays often aligned (in a One-Plan-Approach), genetic management is becoming more the standard (supported by quickly developing genomic techniques). However, rarely quantitative genetic aspects are raised in this issue, while its relevance cannot be underestimated. Hence, the current manuscript by Sauve et al (2022) is a welcome contribution, in order to improve conservation efforts. The authors give a clear overview on how quantitative genetic analysis can aid the measurement, monitoring, prediction and management of adaptive genetic variation. The main tools are pedigrees (mainly of ex-situ populations) and the Animal Model. The main goal is to prevent adaption to captivity and altered genetics in general (in reintroduction projects). The confounding factors to take into account (like inbreeding, population structure, differences between facilities, sample size and parental/social effects) are well described by the authors. As such, I fully recommend this manuscript for publication, hoping increased interest in quantitative analysis will benefit the quality of species conservation management.
References
O'Brien D, Laikre L, Hoban S, Bruford MW et al. (2022) Bringing together approaches to reporting on within species genetic diversity. Journal of Applied Ecology, 00, 1–7. https://doi/10.1111/1365-2664.14225
Sauve D., Spero J., Steiner J., Wheeler H., Lynch C., Chabot A.A. (2022) Improving species conservation plans under IUCN's One Plan Approach using quantitative genetic methods. EcoEvoRxiv, ver. 9 peer-reviewed and recommended by Peer Community in Zoology. https://doi.org/10.32942/osf.io/n3zxp