COHUET Anna
MIVEGEC, IRD, Montpellier, France
Behavior, Biology, Ecology, Evolution, Medical entomology, Parasitology, Pesticide resistance
recommender
Recommendation:
1
Reviews:
0
Educational and work
ANNA COHUET has been working on the genetic and environmental determinants of vectorial capacity and competence in malaria vectors, especially focusing on the An. gambiae - P. falciparum system. She has extensive knowledge of vector-parasite interactions, in particular on the genetics of malaria vector populations and the ecology of malaria transmission. An ongoing effort in A. Cohuet's group is to account for the natural diversity of vector mosquitoes-malaria parasite associations and to perform experiments in conditions that reflect nature as much as possible.
Recommendation: 1
10 Jan 2020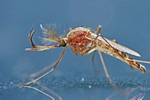 Culex saltanensis and Culex interfor (Diptera: Culicidae) are susceptible and competent to transmit St. Louis encephalitis virus (Flavivirus: Flaviviridae) in central Argentina
Multiple vector species may be responsible for transmission of Saint Louis Encephalatis Virus in Argentina
Recommended by Anna Cohuet based on reviews by 2 anonymous reviewers
Medical and veterinary entomology is a discipline that deals with the role of insects on human and animal health. A primary objective is the identification of vectors that transmit pathogens. This is the aim of Beranek and co-authors in their study [1]. They focus on mosquito vector species responsible for transmission of St. Louis encephalitis virus (SLEV), an arbovirus that circulates in avian species but can incidentally occur in dead end mammal hosts such as humans, inducing symptoms and sometimes fatalities. Culex pipiens quinquefasciatus is known as the most common vector, but other species are suspected to also participate in transmission. Among them Culex saltanensis and Culex interfor have been found to be infected by the virus in the context of outbreaks. The fact that field collected mosquitoes carry virus particles is not evidence for their vector competence: indeed to be a competent vector, the mosquito must not only carry the virus, but also the virus must be able to replicate within the vector, overcome multiple barriers (until the salivary glands) and be present at sufficient titre within the saliva. This paper describes the experiments implemented to evaluate the vector competence of Cx. saltanensis and Cx. interfor from ingestion of SLEV to release within the saliva. Females emerged from field-collected eggs of Cx. pipiens quinquefasciatus, Cx. saltanensis and Cx. interfor were allowed to feed on SLEV infected chicks and viral development was measured by using (i) the infection rate (presence/absence of virus in the mosquito abdomen), (ii) the dissemination rate (presence/absence of virus in mosquito legs), and (iii) the transmission rate (presence/absence of virus in mosquito saliva). The sample size for each species is limited because of difficulties for collecting, feeding and maintaining large numbers of individuals from field populations, however the results are sufficient to show that this strain of SLEV is able to disseminate and be expelled in the saliva of mosquitoes of the three species at similar viral loads. This work therefore provides evidence that Cx saltanensis and Cx interfor are competent species for SLEV to complete its life-cycle. Vector competence does not directly correlate with the ability to transmit in real life as the actual vectorial capacity also depends on the contact between the infectious vertebrate hosts, the mosquito life expectancy and the extrinsic incubation period of the viruses. The present study does not deal with these characteristics, which remain to be investigated to complete the picture of the role of Cx saltanensis and Cx interfor in SLEV transmission. However, this study provides proof of principle that that SLEV can complete it's life-cycle in Cx saltanensis and Cx interfor. Combined with previous knowledge on their feeding preference, this highlights their potential role as bridge vectors between birds and mammals. These results have important implications for epidemiological forecasting and disease management. Public health strategies should consider the diversity of vectors in surveillance and control of SLEV.
References
[1] Beranek, M. D., Quaglia, A. I., Peralta, G. C., Flores, F. S., Stein, M., Diaz, L. A., Almirón, W. R. and Montigiani, M. S. (2020). Culex saltanensis and Culex interfor (Diptera: Culicidae) are susceptible and competent to transmit St. Louis encephalitis virus (Flavivirus: Flaviviridae) in central Argentina. bioRxiv 722579, ver. 6 peer-reviewed and recommended by PCI Entomology. doi: 10.1101/722579