MARENZONI Maria Luisa
Recommendations:
0
Review:
1
Review: 1
09 Jul 2021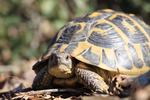 First detection of herpesvirus and mycoplasma in free-ranging Hermann tortoises (Testudo hermanni), and in potential pet vectors
Welfare threatened species
Recommended by Peter Galbusera based on reviews by

Francis Vercammen

and

Maria Luisa Marenzoni
Wildlife is increasingly threatened by drops in number of individuals and populations, and eventually by extinction. Besides loss of habitat, persecution, pet trade,… a decrease in individual health status is an important factor to consider. In this article, Ballouard et al (2021) perform a thorough analysis on the prevalence of two pathogens (herpes virus and mycoplasma) in (mainly) Western Hermann's tortoises in south-east France. This endangered species was suspected to suffer from infections obtained through released/escaped pet tortoises. By incorporating samples of captive as well as wild tortoises, they convincingly confirm this and identify some possible 'pet' vectors.
In February this year, a review paper on health assessments in wildlife was published (Kophamel et al 2021). Amongst others, it shows reptilia/chelonia are relatively well-represented among publications. It also contains a useful conceptual framework, in order to improve the quality of the assessments to better facilitate conservation planning. The recommended manuscript (Ballouard et al 2021) adheres to many aspects of this framework (e.g. minimum sample size, risk status, …) while others might need more (future) attention. For example, climate/environmental changes are likely to increase stress levels, which could lead to more disease symptoms. So, follow-up studies should consider conducting endocrinological investigations to estimate/monitor stress levels. Kophamel et al (2021) also stress the importance of strategic international collaboration, which may allow more testing of Eastern Hermann's Tortoise, as these were shown to be infected by mycoplasma.
The genetic health of individuals/populations shouldn't be forgotten in health/stress assessments. As noted by Ballouard et al (2021), threatened species often have low genetic diversity which makes them more vulnerable to diseases. So, it would be interesting to link the infection data with (individual) genetic characteristics. In future research, the samples collected for this paper could fit that purpose.
Finally, it is expected that this paper will contribute to the conservation management strategy of the Hermann's tortoises. As such, it will be interesting to see how the results of the current paper will be implemented in the 'field'. As the infections are likely caused by releases/escaped pets and as treating the wild animals is difficult, preventing them from getting infected through pets seems a priority. Awareness building among pet holders and monitoring/treating pets should be highly effective.
References
Ballouard J-M, Bonnet X, Jourdan J, Martinez-Silvestre A, Gagno S, Fertard B, Caron S (2021) First detection of herpesvirus and mycoplasma in free-ranging Hermann's tortoises (Testudo hermanni), and in potential pet vectors. bioRxiv, 2021.01.22.427726, ver. 4 peer-reviewed and recommended by Peer Community in Zoology. https://doi.org/10.1101/2021.01.22.427726
Kophamel S, Illing B, Ariel E, Difalco M, Skerratt LF, Hamann M, Ward LC, Méndez D, Munns SL (2021), Importance of health assessments for conservation in noncaptive wildlife. Conservation Biology. https://doi.org/10.1111/cobi.13724