KAMENOVA Stefaniya
Centre for Ecological and Evolutionary Synthesis (CEES), University of Oslo, Oslo, Norway
Biocontrol, Biodiversity, Biological invasions, Ecology, Methodology, Pest management
recommender
Recommendation:
1
Reviews:
0
Areas of expertise
My research interests lie at the intersection of DNA metabarcoding, biodiversity dynamics and trophic interactions in human-exploited ecosystems. I am particularly interested in understanding how the delivery of key ecosystem services (e.g. biological control) could be optimized through the management of multitrophic interactions. I completed my PhD at the Centre d'Études Biologiques de Chizé in France, where under the supervision of Vincent Bretagnolle and Manuel Plantegenest I developed molecular and stable isotope methods for the quantification of carabid beetles' contribution to biological control in intensively managed agroecosystems. After a brief postdoc at the University of Guelph (Canada) focusing on host-parasitoid food webs in boreal forests, I am now studying diet and trophic interactions of Arctic herbivore communities with special emphasis on reindeer. By combining DNA metabarcoding analysis, climate and socio-economic data as well as traditional knowledge from reindeer herders, my objective will be to identify relevant management scenarios for reindeer husbandry that meet the constraints of ongoing climate and land use changes in the high Arctic.
Recommendation: 1
22 Jul 2020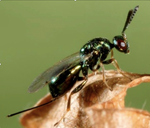 The open bar is closed: restructuration of a native parasitoid community following successful control of an invasive pest.
Raise and fall of an invasive pest and consequences for native parasitoid communities
Recommended by Stefaniya Kamenova based on reviews by

Kévin Tougeron

and

Miguel González Ximénez de Embún
Host-parasitoid interactions have been the focus of extensive ecological research for decades. One the of the major reasons is the importance host-parasitoid interactions play for the biological control of crop pests. Parasitoids are the main natural regulators for a large number of economically important pest insects, and in many cases they could be the only viable crop protection strategy. Parasitoids are also integral part of complex food webs whose structure and diversity display large spatio-temporal variations [1-3]. With the increasing globalization of human activities, the generalized spread and establishment of invasive species is a major cause of disruption in local community and food web spatio-temporal dynamics. In particular, the deliberate introduction of non-native parasitoids as part of biological control programs, aiming the suppression of established, and also highly invasive crop pests, is a common practice with potentially significant, yet poorly understood effects on local food web dynamics (e.g. [4]).
In their study, Muru et al. [5] took advantage of an existing biological control program focusing on the Asian chestnut gall wasp Dryocosmus kuriphilus, an invasive (and highly damaging) pest of chestnut trees. The species is currently a successful invader in many geographic regions, including southern France, where local parasitoid communities failed to provide an adequate control since its widespread establishment in 2010 [6]. In response, the non-native parasitoid species Torymus sinensis, which is highly-specific to the Asian chestnut gall wasp, was massively released in commercial chestnut orchards across several regions in France and the island of Corsica. The pest population outbreak was successfully contained, and thanks to the vast amount of host-parasitoid interaction data collected as part of the program, the authors were able to explore the effects of the large fluctuations in Asian chestnut gall wasp natural abundances on native parasitoid communities, immediately before, and up to five years following the introduction of its natural enemy T. sinensis.
Using co-occurrence and clustering analyses, Muru et al. [5] demonstrate that the invasion and the consecutive (efficient) control of the Asian chestnut gall wasp by the parasitoid T. sinensis have a significant impact on the structure of local parasitoid food webs. In particular, following decline in the Asian chestnut gall wasp's populations, native parasitoids markedly switched to alternative hosts, most likely due to their respectively higher relative abundances. This pattern seemed to be driven by the degree of generalism in native parasitoid species. Indeed, when its abundances were still relatively high, the Asian chestnut gall wasp was primarily attacked by species capable of exploiting a broad range of hosts, while at low population densities only specialist parasitoids such as Mesolobus sericeus were able to persist and compete with the non-native T. sinensis.
The current study is important for two major reasons. First, it underscores the value of long-term species interaction data in order to understand the dynamic nature of food webs, namely their structural flexibility in response to changes in the environment or, as in this case, large fluctuation in abundances of a major pest species. In this context, biological control programs could be a great source of data for exploring long-term, large-scale dynamics of species interactions, and their use in ecological studies deserves to be further emphasized. Second, the study adds to the increasing empirical evidence that mobile generalist foragers can display adaptive, frequency-dependent switching behaviour ([1], [7]), which has been suggested to act as a key stabilizing mechanism in food webs by buffering fluctuating population dynamics at larger spatial scales ([8- 10]).
However, the timing of such buffering seems important, especially in systems such as commercial chestnut orchards. Despite their capacity to adaptively switch their foraging behaviour, the response of the native parasitoid communities to the new, unfamiliar resource was not fast enough in order to contain the primary outbreak under an appropriate damage threshold, thus requiring the introduction of the more specialized parasitoid T. sinensis. Nevertheless, based on current ecological theory, results presented by Muru et al. [5] suggest that the response of native parasitoid community to fluctuating host dynamics – i.e. shifts in parasitoid foraging behaviour based on their traits – could be predictable. This is encouraging considering the growing impact of biological invasions and insect pest outbreaks, but also the need to implement efficient, yet sustainable strategies for crop protection. Future studies would show at what extent observations by Muru et al. [5] are generalizable over longer time periods or other model systems. Noticeably, better understanding about population dynamics and interactions with the broader community of hosts available across habitats should allow to fine-tune predictions about parasitoids' response to fluctuating resources.
References
[1] Eveleigh ES, McCann KS, McCarthy PC, Pollock SJ, Lucarotti CJ, Morin B, McDougall GA, Strongman DB, Huber JT, Umbanhowar J, Faria LDB (2007). Fluctuations in density of an outbreak species drive diversity cascades in food webs. Proc. Natl. Acad. Sci. USA 104, 16976-16981. doi: 10.1073/pnas.0704301104
[2] Tylianakis JM, Tscharntke T, Lewis OT (2007). Habitat modification alters the structure of tropical host–parasitoid food webs. Nature 445, 202-205. doi: 10.1038/nature05429
[3] Murakami M, Hirao T, Kasei A (2008). Effects of habitat configuration on host–parasitoid food web structure. Ecol. Res. 23, 1039-1049. doi: 10.1007/s11284-008-0478-0
[4] Geslin B, Gauzens B, Baude M, Dajoz I, Fontaine C, Henry M, Ropars L, Rollin O, Thébault E, Vereecken NJ (2016). Massively introduced managed species and their consequences for plant–pollinator interactions. Adv. Ecol. Res. 57, 147-199. doi: 10.1016/bs.aecr.2016.10.007
[5] Muru D, Borowiec N, Thaon M, Ris N, Viciriuc M I, Warot S, Vercken E (2020) The open bar is closed: restructuration of a native parasitoid community following successful control of an invasive pest. bioRxiv, 2019.12.20.884908, ver. 6 peer-reviewed and recommended by PCI Zoology. doi: 10.1101/2019.12.20.884908
[6] Borowiec N, Thaon M, Brancaccio L, Warot S, Vercken E, Fauvergue X, Ris N, Malausa J-C (2014). Classical biological control against the chestnut gall wasp 'Dryocosmus kuriphilus' (Hymenoptera, Cynipidae) in France. Plant Prot. Q. 29, 7-10.
[7] Bartley TJ, McCann KS, Bieg C, Cazelles K, Granados M, Guzzo MM, MacDougall AS, Tunney TD, McMeans BC (2019). Food web rewiring in a changing world. Nat. Ecol. Evol. 3, 345–354. doi: 10.1038/s41559-018-0772-3
[8] Kondoh M (2003). Foraging adaptation and the relationship between food-web complexity and stability. Science. 299, 1388-1391. doi: 10.1126/science.1079154
[9] McCann KS, Rooney N (2009). The more food webs change, the more they stay the same. Philos. Trans. R. Soc. Lond. B Biol. Sci. 364, 1789-801. doi: 10.1098/rstb.2008.0273
[10] Valdovinos FS, Ramos-Jiliberto R, garay-Narváez L, Urbani P, Dunne JA (2010). Consequences of adaptive behaviour for the structure and dynamics of food webs. Ecol. Lett. 13, 1546-1559. doi: 10.1111/j.1461-0248.2010.01535.x