DIAZ Adrian
Laboratory of Arbovirus, Institute of Virology "Dr. J. M. Vanella" - Faculty of Medicine - National University of Cordoba, Cordoba, Argentina
Medical entomology
recommender
Recommendation:
1
Reviews:
0
Areas of expertise
I am a biologist specialized in ecology of vector-borne viral diseases. I carried out my PhD in Biological Sciences in the National University of Cordoba digging in the transmission network of St. Louis encephalitis virus (Flavivirus). After an internship at the Center for Diseases Control and Prevention at Fort Collins and a PosDoc possition in the Instituto de Salud Carlos III (Madrid), I got a position as a Researcher at the CONICET and an Associate Professor at the National University of Cordoba. My current research activities and interests are focused on the study of vector/host/virus interactions. With my doctorate students we are studying: - the effect of urbanization and agriculture on arboviruses activity (St. Louis encephalitis and West Nile viruses as models), - how the global warming is affecting southern distribution of Aedes aegypti and its vector capacity to dengue viruses, - the transmission network for West Nile virus in Argentina, - the feeding patterns of Culex mosquitoes species as vectors of St. Louis encephalitis virus and West Nile virus.
Recommendation: 1
01 Jul 2020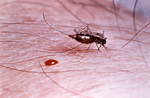 Sub-lethal insecticide exposure affects host biting efficiency of Kdr-resistant Anopheles gambiae
kdr homozygous resistant An. gambiae displayed enhanced feeding success when exposed to permethrin Insect-Treated Nets
Recommended by Adrian Diaz based on reviews by

Thomas Guillemaud

,

Niels Verhulst

,

Etienne Bilgo

and 1 anonymous reviewer
Malaria is a vector-borne parasitic disease found in 91 countries with an estimated of 228 million cases occurred worldwide during 2018. The 93% (213 million) of those cases were reported in the African Region (WHO 2019). Six species of Plasmodium parasites can produce the disease but only P. falciparum and P. vivax are the predominant species globally. More than 40 species of Anopheles mosquitoes are important malaria vectors (Asley et al. 2018). Intrinsic (genetic background, parasite susceptibility) and extrinsic (feeding host preference, host diversity and availability, mosquito abundance) factors affect the capacity of mosquitoes to vector the disease (Macdonald 1952). Malaria is prevented by chemoprophylaxis, vaccination, bite-avoidance and vector-control measures. The mainstays of vector control are long-lasting insecticide (pyrethroid) treated nets and indoor residual spraying with insecticides (Asley et al. 2018). The widespread use of pyrethroid insecticides forced the emergence of insecticide resistance in malaria vectors reducing the insecticidal effect. Mosquitoes can modify their behaviour avoiding insecticide contact and so potentially reducing vector control tools efficacy. In this sense, Diop et al. (2020) investigated whether pre-exposure to an Insecticide-Treated Net (ITN) modulates the mosquito ability to take a blood meal in Anopheles gambiae. By means of video recording experiments the authors analyzed how the feeding/bitting behaviour was affected by kdr mutation genotypes (homozygous susceptible – SS-, heterozygotes -RS- and homozygous resistant -RR-) when exposed to two different insecticides (permethrin and deltamethrin). According to the results, the blood-feeding success did not differ between the three genotypes in the absence of insecticide exposure. However, authors observed differences in the feeding duration and blood meal size. In example, RR mosquitoes spent less time taking their blood meal than RS and SS. On the other hand, RS mosquitoes took higher blood volumes than RR females. These differences can affect the mosquito fitness by decreasing/increasing the likelihood to be killed by the host defensive behavior or increase the oogenesis so enhancing fecundity. Regarding the effect of exposition to insecticides authors detected a strong relationship between kdr genotype and Knock Down (KD) phenotype when mosquitoes were exposed to Permethrin. Previously, the authors have evidenced that RR mosquitoes prefer a host protected by a permethrin-treated net rather than an untreated net and that heterozygotes RS mosquitoes have a remarkable ability to find a hole into a bet net (Diop et al. 2015, Porciani et al. 2017). With data here obtained, they demonstrated that kdr homozygous resistant An. gambiae displayed enhanced feeding success when exposed to permethrin ITN. The changes observed in the feeding/biting mosquito behaviour can affect their fitness shaping the evolution of the insecticide resistance in mosquitoes' natural populations. Moreover, this may also alter parasite transmission dynamics by modifying vector/host interactions and so vector capacity.
References
World Health Organization (2019). World malaria report 2019. Geneva: World Health Organization; 2019. ISBN 978-92-4-156572-1
Ashley EA, Pyae Phyo A, Woodrow CJ (2018). Malaria. Lancet. 391(10130):1608‐1621. doi: 10.1016/S0140-6736(18)30324-6
Macdonald G (1952). The analysis of equilibrium in malaria. Trop Dis Bull 49: 813-828.
Diop MM, Chandre F, Rossignol M, Porciani A, Château M, Moiroux N and Pennetier, C. (2020). Sub-lethal insecticide exposure affects host biting efficiency of Kdr-resistant Anopheles gambiae. bioRxiv 653980, ver. 4 peer-reviewed and recommended by PCI Zoology. doi: 10.1101/653980
Diop MM, Moiroux N, Chandre F, Martin-Herrou H, Milesi P, Boussari O, et al. (2015) Behavioral cost and overdominance in Anopheles gambiae. PLoS ONE. 10(4):e0121755. doi: 10.1371/journal.pone.0121755
Porciani A, Diop M, Moiroux N, Kadoke-Lambi T, Cohuet A, Chandre F, et al. (2017) Influence of pyrethroïd-treated bed net on host seeking behavior of Anopheles gambiae s.s. carrying the kdr allele. PLOS ONE. 12(7):e0164518. doi: 10.1371/journal.pone.0164518